An Ohio resident interested in digging up another person's public data probably doesn't know where to begin in locating Ohio state records.
Ohio Records Page provides access to free Ohio divorce records, free Ohio marriage records, free Ohio warrant searches, and all other free public records in Ohio.
Find any Ohio records needed through looking up public information about someone else or yourself.
Accessing Ohio State Records
The law that gives the American people the right to access public information is called the FOIA, which stands for the Freedom of Information Act. Ohio has its own FOIA law: the Ohio Open Records Law and the associated Ohio Sunshine Laws Manual. Created in 1963, the Ohio Open Records Law lets any person request state records, and someone can even ask for a specific record without giving their name if they wish. However, government information like bank financial reports and parole records are exempt from this law.1
The web is full of third-party record search websites that permit others to research public data for a small fee or absolutely nothing. Some records, especially ones that are over 100 years old, are difficult to track down through government venues. Private companies can solve this issue because they make the job simpler and more efficient. Additionally, they save someone from looking through countless other databases since everything's in one place.
However, people should consider utilizing government databases due to their reputation for delivering trustworthy results even if they are limited by jurisdiction.
Anyone who needs to read someone's public data has to know how to find the right documents, type of court, and the appropriate government bureau before starting their search.
Criminal Records in the State of Ohio
Ohio criminal records, sometimes called rap sheets, typically contain information related to someone's charge or conviction degree, open or closed court cases, and any incarceration dates. A person's criminal record serves as a screening device for property and business owners to protect themselves as well as their clients.
Who Can View Ohio Criminal Records?
Since certain criminal records fall under the rules outlined by the Ohio Open Records Law, anyone can view some of these Ohio state records. Nevertheless, anything associated with probation cases or an ongoing investigation is not open to the general public. Also, digital criminalized records held by the Ohio Attorney General's Bureau of Criminal Investigation (BCI) aren't public either.2
How to Check if Someone Has a Criminal History in Ohio
Since the Ohio BCI grants limited access to others' criminal history checks, the only people who can use their services to check someone else's background are prospective employers.
They can contact or visit any of the WebCheck vendors in the state. But, there is an option for individuals who desire to run a criminal history check on themselves. In addition, people can search court records, public offender registries, and other tools that'll be discussed later in this article.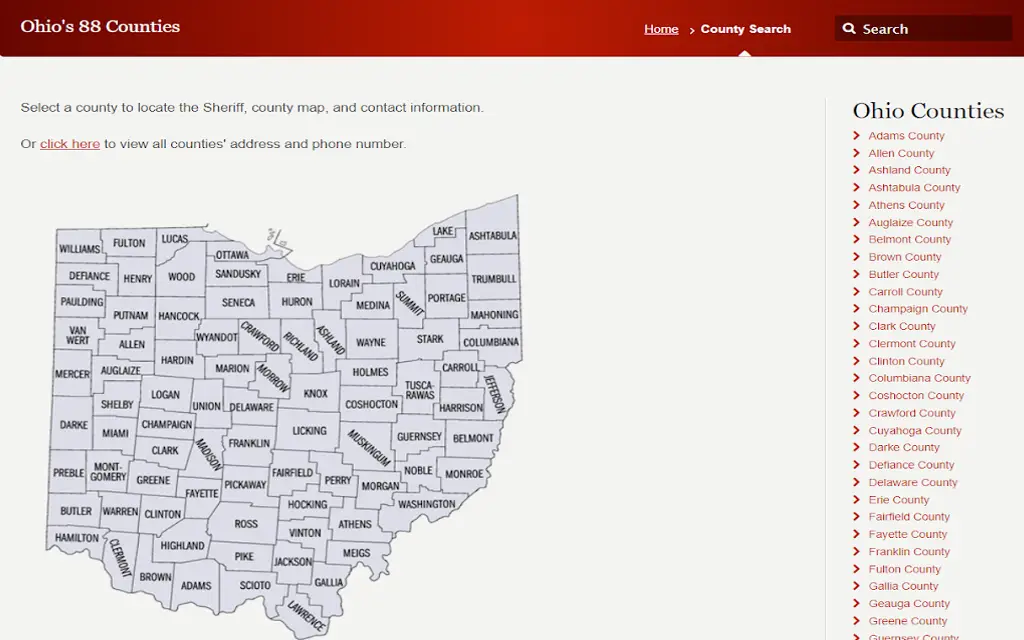 They have to submit their full name, home address, and other demographics. In addition, they have to turn in their fingerprints, signature, and a payment of $22.00. (Payment methods the Ohio BCI accepts include online payments, checks, and money orders.)
There are four BCI addresses where patrons can send their electronic fingerprints:
Ohio BCI London
1560 State Rte 56 Southwest
London OH 43140
Ohio BCI Youngstown
20 West Federal St
Youngstown OH 44503
Ohio BCI Bowling Green
750 N College Dr
Bowling Green OH 43402
Ohio BCI Richfield
4055 Highlander PKWY
Richfield OH 44286
Searchers can also visit a WebCheck location or the FBI (Federal Bureau of Investigation) to request a personal criminal history check. If they want to check another person's criminal history for personal reasons, they can locate and contact the appropriate county sheriff.
Furthermore, our search guide on Ohio criminal and arrest records provides even more agencies to check with along with county arrest logs and jail contact information for every county.
How to Look at Ohio Arrest Mugshots
Seeing someone's arrest mugshot makes it easier for people to help law enforcement catch an escapee or recognize a loved one recently taken into custody. While many people can find mugshots on television or in an online newspaper, they may not be near a TV or subscribe to a newspaper. Fortunately, there are other (usually free) ways for locals to view mugshots.
One site individuals can use is the Ohio Department of Rehabilitation and Correction (DRC) Parole Listing. It features an alphabetical list of offenders who violated parole and their photos.
They can also pick their favorite search engine and type "arrest mugshots Ohio counties" or "arrest mugshots Ohio police departments" to bring up jail websites. If they don't have a website or arrest photos, people can call and inquire about mugshots.
Who Can See Juvenile Records in Ohio?
Juvenile records aren't accessible to the public, so only authorized individuals like legal representatives, parents, or guardians can see these Ohio state records.3 But, just because the general public can't view them, it doesn't mean that juvenile records do not affect the person in question. Most of them aren't automatically expunged or sealed when someone hits 18, which means they can show up on background checks and get in the way of career or school prospects.
Luckily, a person can get their juvenile record sealed unless their crime was of a sexual or violent nature. To seal their record, they need to go to the court in the county where the offense took place and fill out an application. (There's no application fee for this process.) Once the waiting period passes, they have to bring evidence to prove why their record should be sealed.4
Do I Have a Warrant (OH)? How to Run a Free Ohio Warrant Check
If anyone's curious about a warrant they may have (or someone else has), they can scour the Internet since Ohio doesn't have a designated warrant database for its residents. Locals can input the words "arrest warrant + Ohio county" to receive warrant search sites offered by many police departments and county jails. For example, The City of Columbus Outstanding Warrants search page shows up as the first result. It advises users to use the Franklin County Municipal Court's CASE (Court Access and Search Engine) to search for outstanding warrants. Additionally, they're advised to call their attorney and turn themselves in.
Another example of the best ways to look up warrants through local agencies can be viewed through our resource on all free Cuyahoga County public records, which describes not only how to obtain warrant details but also public information regarding criminal records, background checks, arrest reports, inmates, court cases, and more on anyone in the county.
People can also check out the US Marshals Warrant Information System for federal warrants. It requires them to travel to Arlington, Virginia, and its reading room is equipped with computers.
Ohio: See if a Sex Offender Lives Nearby
The Ohio Attorney General offers a handy sex offender online database for individuals concerned about any sex offenders in their area. People can look up an offender via city, name, compliance status, phone number, email, and proximity to a certain address. Additionally, they can sign up for email alerts to be notified when a registered offender's close to a radius of a home or business address. All of the county sheriffs in the state are connected with this system, so if someone inputs an Internet alias or contact number related to an offender, they are advised to contact the Ohio BCI or their local sheriff.5
Those interested in searching for sex offenders throughout the country are welcome to use the Dru Sjodin National Sex Offender Public Website.
Ohio Background Checks (Explained)
People have to go through a background check whether applying for a loan, renting an apartment, or as part of a job requirement. Ohio provides many background check tools for employers, prospective employees, and the general public.
As mentioned previously, business owners and others can use WebCheck to carry out employment or personal background checks.
For instance, people involved in the notary industry have to turn in a recent criminal records check through WebCheck along with a notary application when applying for a new commission or renewing a current one. Furthermore, they can't be guilty of any of these offenses. The process takes approximately 40 days.
Teachers who are part of the Ohio K-12 education system are required to send background checks conducted by the FBI and the Ohio BCI. They also have to sign up for Rapback, a program that keeps criminals from working with children. In addition, they have to follow certain guidelines when applying for a new license or reinstating a present license.
Ohio Court Record Information
Court records in Ohio usually consist of trial decisions, hearing transcripts, docket information, and other details related to court matters. For the most part, Ohio court records are accessible by the public unless expunged or sealed.
Six courts govern the Ohio Judicial Structure including the Mayor's Courts, the Municipal and County Courts, the Court of Claims, the Courts of Common Pleas, the Court of Appeals, and the Supreme Court:
The Mayor's Courts– Though it's not a record court (and technically not a component of the state's judicial branch), it's important nevertheless because it files statistics with the Supreme Court every quarter and every year. Ohio is also one of two states (the other being Louisiana) where mayors are permitted to be in charge of a court. They typically work with cases associated with state traffic laws and local ordinance breaches.
The Municipal and County Courts deal with traffic cases, misdemeanors, and civil disputes up to $15,000.
The Court of Claims handles lawsuits related to wrongful death, property damage, contract violation, and monetary compensation for crime victims.
The Courts of Common Pleas presides over four divisions: General Division, Domestic Relations, Juvenile Division, and Probate Division.

The General Division works with appeals from most administrative agencies as well as criminal and civil suits.
Domestic Relations involve divorce cases and child custody cases.
The Juvenile Division is associated with paternity suits and juvenile crimes.
The Probate Division handles marriage licenses, adoption cases, and property of the deceased.

The Court of Appeals deals with "second chance" suits transferred from the Municipal and County Courts and the Courts of Common Pleas.
The Supreme Court is based in Columbus, Ohio, and makes the final decision on appeals cases.
Where Can I Get Court Records in Ohio?
Residents needing to obtain certain court records or cases have beneficial methods they can use. The Supreme Court of Ohio offers a database that allows someone to search for case dockets.
The US District Court of the Northern District of Ohio has four court locations:
Akron
Cleveland
Toledo
Youngstown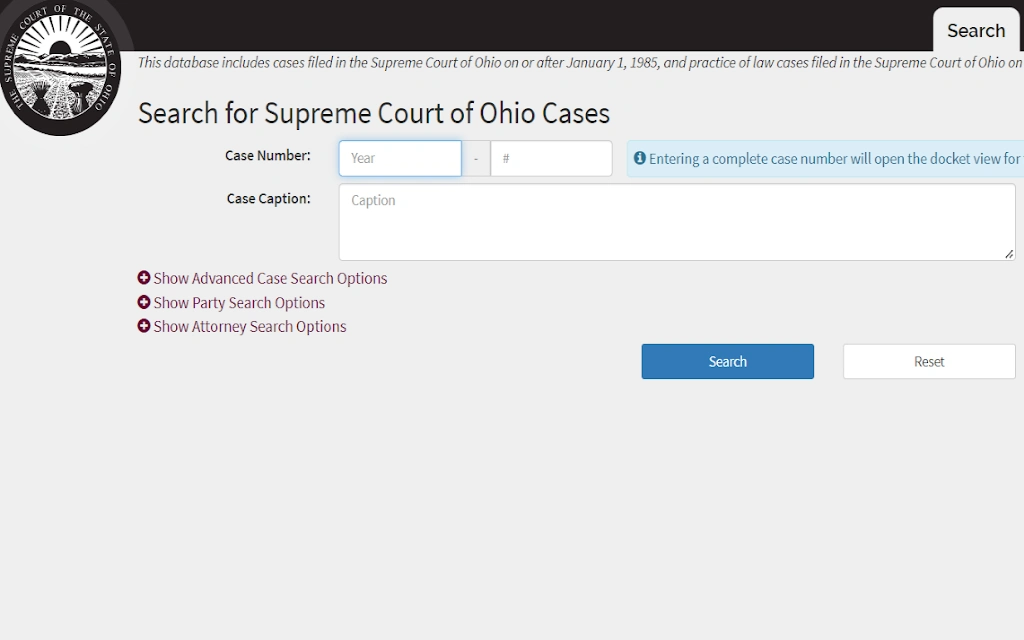 Each courthouse in these cities allows patrons to request court record copies. The Clerk's Office charges $0.50 a page for documents. If someone wants to have their documents certified, the price is $11.00. They can mail their request, submit an online request, or go to one of the courthouses in person.
Anyone who needs to retrieve records from a specific county can find the court location from this directory of trial courts and contact them through their website.
The Ohio Court of Claims provides a sample request form people can submit if they want to obtain public records from them.
Additionally, individuals can contact the Ohio Court of Appeals and/or the Supreme Court of Ohio with any requests or questions.
Check Who Has Filed Bankruptcy Records in Ohio
If someone's interested in viewing another person's bankruptcy records, they can utilize services offered by the US Bankruptcy Court of the Southern District of Ohio or the US Bankruptcy Court of the Northern District of Ohio. Both bankruptcy courts have a McVCIS (Multi-Court Voice Case Information System) that lets users access information 24/7. They also provide public computer terminals for those who want to view and print documents.
Public Access to Court Electronic Records (PACER) gives site visitors the option of obtaining digital documents or audio files. They cost $0.10 a page and $2.40 per file respectively.
A Look at Inmate Records in Ohio
Currently, there are approximately 20,700 jail inmates who dwell in the state's 108 jails. The prison population here is over 50,000.6
Inmate records in Ohio usually contain details like parole status, name, and inmate ID number. This information is crucial for others to know to determine whether the inmate in question deserves a second chance upon release depending on the severity of their crime.
Find Someone Who Was Arrested or Serving Jail Time in Ohio
Finding out an individual's arrest and/or jail status can be very useful, particularly if someone is attempting to track down a familiar person. One way someone can conduct this search is by inputting the words "county search jail inmate Ohio" into a search engine like Google. They can scan the list of results and click on the website that suits what they're looking for. Many of the county sheriff's sites have listings that include an inmate's name, booking number, and charge.
For instance, the Ohio County Detention Center inmate list uses JailTracker, a program that lets people type in a captcha code before commencing their research. Users can search by name or by clicking the "View More" button next to a listed inmate.
Another way someone can locate an inmate is via VINE, a website that provides notifications of an inmate's custody status.
How to Find & Use Prison Inmate Finders (State & Federal)
The Ohio DRC operates 28 correctional institutions. Those wanting to find someone in one of those prisons can check out its Offender Search tool. Users can search inmates by name, county, zip code, or offender number. It has a parole violator lookup feature, too.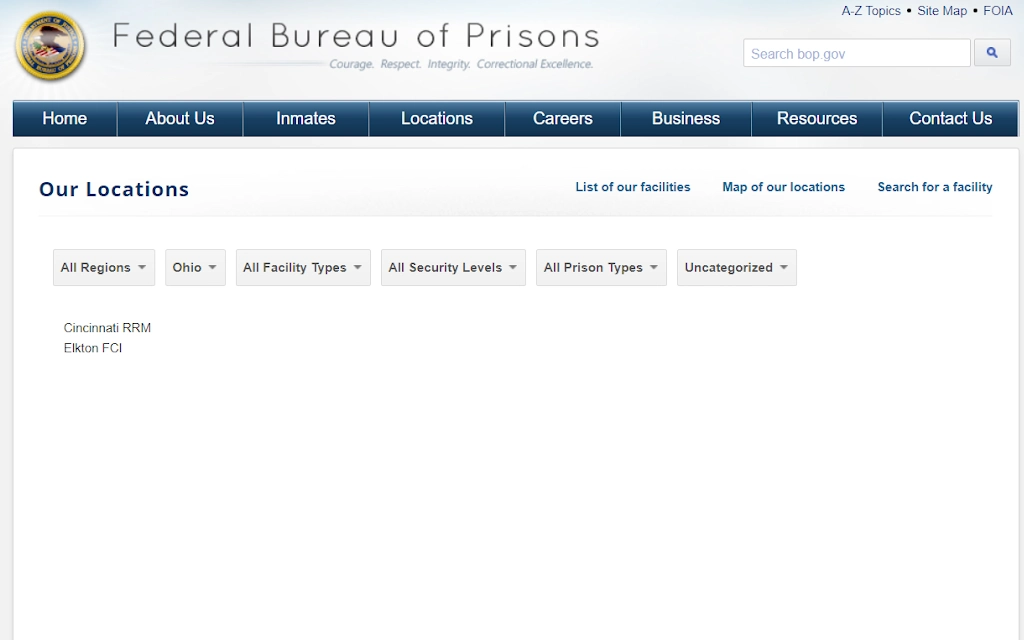 Federal prisons can be located through the Federal Bureau of Prisons (BOP). People can use its inmate locator to search for someone by name and related demographics or institution number. Someone can also narrow their search by state.
Prison Inmate Communication
After finding their loved ones, many people like to keep in touch with them regularly. The Ohio DRC system offers three correspondence methods: packages, letters, and email.
Packages– Ohio DRC inmates are allowed to place sundry and food orders from vendors like Walkenhorsts and Union Supply Direct. (They use flyers and catalogs provided by their facility to place such orders.) Their friends and relatives can place orders on their behalf as long as they abide by the guidelines outlined in Rule 5120-9-33.
Letters– Anyone who wants to write and mail letters to an inmate should dial (614)-752-1076 to reach the Central Inmate Records department to obtain an inmate's ID number. They're required to write inmate ID numbers on the envelopes.
Email– Through JPay's email system, inmates and their loved ones can communicate with each other via a third-party site. All messages exchanged between them are managed and monitored.
Visiting an Ohio Inmate
Before visiting an inmate, individuals have to fill out an application as well as turn in paperwork authorizing any visiting minors. Each correctional facility has its own rules regarding in-person visits, so prospective visitors can consult this institution list to contact a specific facility.
The Ohio DRC also provides video visitations through JPay kiosks placed in each correctional institution. This option is available every day of the week, plus costs and procedures differ from facility to facility.
Sending Money to an Inmate
Inmates can only receive money from approved visitors. Ohio DRC inmates have personal accounts from where they can receive money via telephone, mail, or online:
Telephone– Visitors need to call (888)-988-4768 to transfer money deposits via debit or credit cards.
Mail– People need to submit a money order deposit form made out to ConnectNetwork to send Trust Fund payments.
Email– Individuals can send money deposits through ConnectNetwork's website, too. Unlike the mail option, it lets site visitors view payment statements.
The telephone and online options come with various transaction fees.
Ohio Vital Records & Statistics Information
Vital records in Ohio usually consist of heirloom birth certificates, fetal death records, adoption records, divorce records, marriage records, and death records. As of late, there are about 11,800,000 people who live in Ohio.7
This portion of the article focuses on only death, birth, marriage, and divorce certificates.
Can I View Anyone's Vital Records in Ohio? (Including Free Divorce Records in Ohio)
Unlike many states, birth, death, marriage, and divorce records are open to the public in Ohio. But, if someone wants to protect children, business information, or domestic violence victims, they can request to seal their divorce records.8
To illustrate the divorced population in the state, the image below shows the divorce rates of every Ohio county based on data from the U.S. The Census Bureau.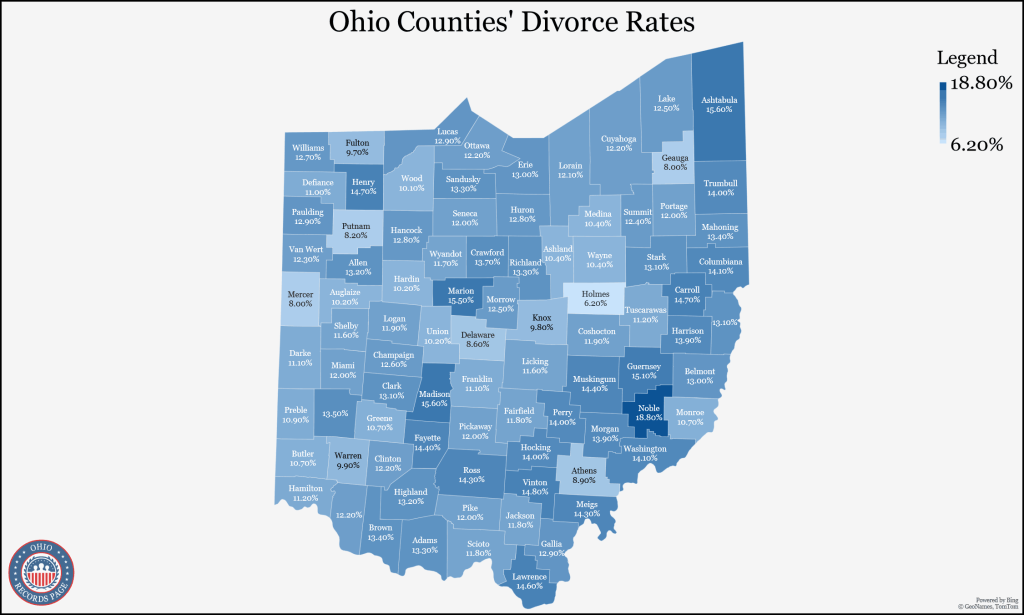 Check Free Ohio Marriage Records and Divorce Records (See if Someone is Married or Divorced Free in Ohio)
Anyone needing to retrieve marriage or divorce records has to travel to the county where the marriage or divorce decree was issued. People can get marriage certificates from a county probate court. Those wanting divorce records can contact someone from any Clerk of Courts location.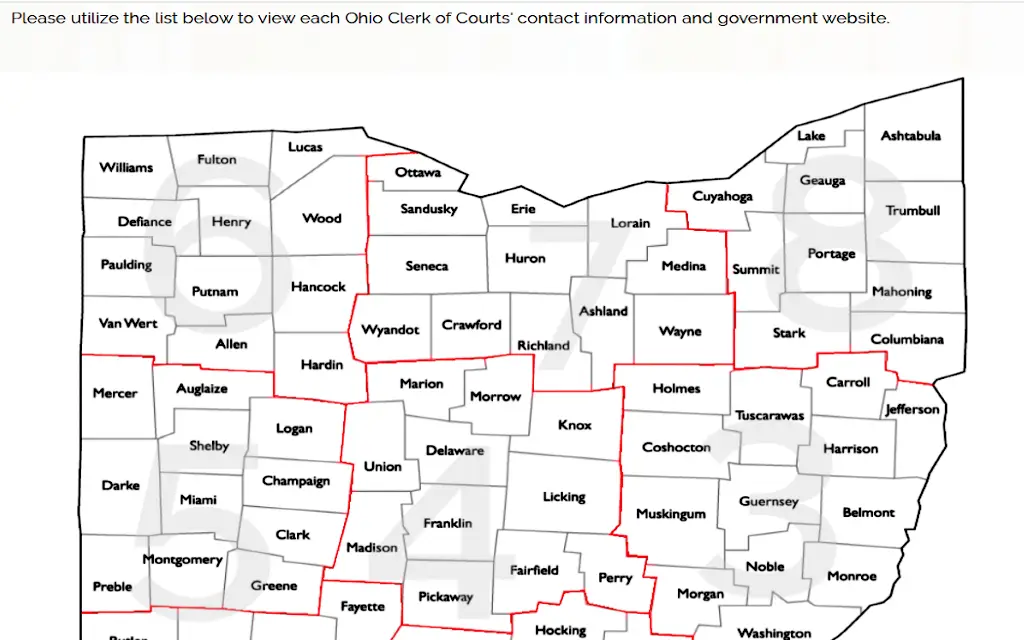 Where Do I Get Copies of Death & Birth Certificates in Ohio?
These kinds of Ohio state records can be accessed via the Ohio Department of Health, Bureau of Vital Statistics. Customers can order them in person through their local offices, online, or by mail:
Local office– An individual can find their local office through this office locator page. It lists all the health departments in the state.
Online– A person who wants to save themselves the trouble of commuting to a health department office can order via the Bureau of Vital Statistics' web order portal. All major credit cards are accepted, and the order processing time is five days.
Mail– For mail orders, patrons need to submit an Application for Certified Copies and a check or money order to the below address:
Ohio DOH – Bureau of Vital Statistics
P.O. Box 15098
Columbus OH 43215
Mail orders take about a couple of months to process.
The price for birth and death certificates is $21.50. Questions and comments can be sent to [email protected].
Whether a person wants to research someone's data due to necessity or curiosity, they need to know where to look for them and what rules to adhere to. This guide can prepare them so they're confident in tracking down Ohio state records.
1Ohio FOIA Laws – National Freedom of Information Coalition. (n.d.). National Freedom of Information Coalition. Retrieved June 27, 2022, from <https://www.nfoic.org/ohio-foia-laws/>
2Requesting Your Own Criminal Records. (n.d.). Ohio Attorney General. Retrieved June 27, 2022, from <https://www.ohioattorneygeneral.gov/Individuals-and-Families/Consumers/Requesting-Your-Own-Criminal-Records>
3Public Records | Probate and Juvenile Court. (n.d.). Wayne County Probate Court. Retrieved June 27, 2022, from <https://www.wayneprobateandjuvenile.org/resources/public-records>
4Dearie, J. (2019, October 25). Expungement and Sealing of Juvenile Records in Ohio. Dearie, Fischer &amp; Mathews LLC. Retrieved June 27, 2022, from <https://www.dfm-law.com/blog/2019/10/expungement-and-sealing-of-juvenile-records-in-ohio/>
5Sex offender search | Ohio.gov | Official Website of the State of Ohio. (2018, June 7). Ohio.gov. Retrieved June 27, 2022, from <https://ohio.gov/residents/resources/sex-offender-search>
6Ohio 2019. (n.d.). National Institute of Corrections. Retrieved June 27, 2022, from <https://nicic.gov/state-statistics/2019/ohio-2019>
7US Census Bureau QuickFacts: Ohio. (n.d.). U.S. Census Bureau. Retrieved June 27, 2022, from <https://www.census.gov/quickfacts/OH>
8How to avoid putting your divorce secrets on the public record. (n.d.). Zachary D. Smith, LLC. Retrieved June 27, 2022, from <https://www.zdslaw.com/blog/2020/09/how-to-avoid-putting-your-divorce-secrets-on-the-public-record/>
9Buckeye State Sheriffs' Association. Accessed 6 May 2023. <https://buckeyesheriffs.org/county-map.php>
10Supreme Court of Ohio. Accessed 6 May 2023. <https://www.supremecourt.ohio.gov/Clerk/ecms/#/search>
11Federal Bureau of Prisons. Accessed 6 May 2023. <https://www.bop.gov/locations/list.jsp>
12Ohio Clerk of Courts Association. Accessed 6 May 2023. <https://www.occaohio.com/ohio-county-clerks.html>