Search free Ohio criminal records in any and every OH county through official agencies today.
Ohio Sunshine Laws and Section 149.42 make Ohio arrest records, mugshots, criminal histories, prisoner records, probation and parole information, and warrant details readily accessible. However, these records aren't found easily unless you know where to look.
To make finding public criminal records more efficient, Ohio Records Page outlines everything citizens need to know so they can learn more about an individual.
Are Criminal Records & Arrest Records Considered Public Information in Ohio?
Section 149.42 under the Ohio Laws & Administrative Rules states that criminal records and arrest records are public information; and as seen in our Ohio public records search guide, these laws extend to other types of information such as marital status, court documents, property records and more.  
Public records and open meetings laws are collectively known as "Sunshine Laws" both in Ohio and other states These laws give Ohioan's access to government meetings and records. It's also important to remember that these rap sheets can be requested through a variety of different ways, both at the state and county level.
As outlined in the 2023 Ohio Sunshine Laws Manual, there are a few exceptions to this rule, meaning certain records will not be available to the public, including juvenile records and those that have been sealed or expunged.
In addition to these Ohio laws, federal background check laws, such as the Fair Credit Reporting Act (FCRA), must be abided by. Additionally, the Equal Employment Opportunity Commission (EEOC) helps protect individuals against discrimination.
The Difference Between Criminal Records & Arrest Records in the State of Ohio
When looking to obtain records information, it's always important to remember that there are notable differences in what appears on a criminal record search versus an Ohio arrest record. Arrest records will show that an individual was detained by police with the suspicion that they committed the crime, but there is no admission or proof of guilt.
In comparison, significantly more information will populate when an Ohio criminal record is obtained, including the arrest details, charges, court proceedings and the case outcome. Criminal records will also show any past charges on someone's criminal history.
In short, a criminal record will be all-inclusive, stating all more information regarding the individual, the case, and prior crimes. In contrast, an arrest record will only help someone find if someone went to jail and what they were arrested for.
How To View Free Arrests, Mugshots & Figure Out Why Someone Was Arrested for Free (Online Arrest Logs & Contact Details)
When the county or general vicinity where the arrest occurred is known, the quickest and easiest way to look up arrest records is through the county inmate search tool, if applicable, or by contacting that county's sheriff's office.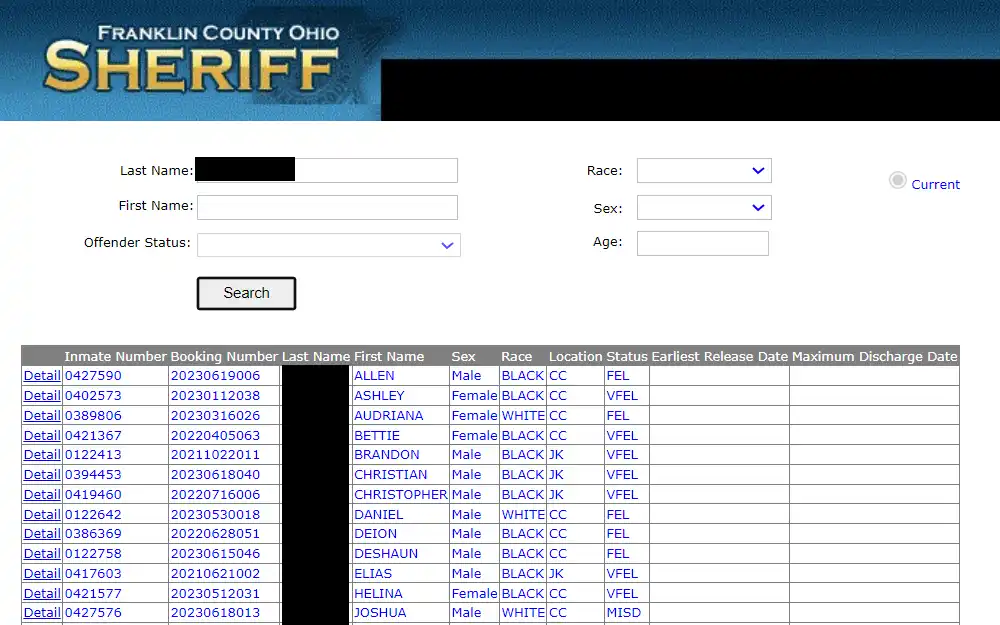 To assist find Ohio arrest records, the chart below includes the county sheriff's online inmate roster if there is one available, their contact information, if they show mugshots online, and local jails' phone number as well.
To find out if someone is in jail, county records should be checked before looking into other options such as third-party search sites.
And according to the most updated National Institute of Corrections census, Ohio has 108 jails in 88 counties, most of which are listed here.1
How To Get Ahold of Someone in an Ohio Jail & Post Their Bail
Each jail has a slightly different scheduling process and rules to follow during, before and after the visit. Hence, it's most helpful to directly contact the specific jail facility to ensure one is obtaining the most updated visiting and contact information.
That being said, the most effective way to learn how to contact an inmate and prepare for visitation would be to check out the jail's website.
To do that, simply use the county inmate's links in the above chart to navigate to the sheriff's office website. Once on the sheriff's website, view the information on their visitation policies often this is found directly on the home page. If not, search for "visitation" in the search bar on the sheriff's office website.
If any issues arise or further questions come up, it can always be helpful to call the sheriff's office or county jail phone number, which is also included in the above chart.
Additionally, when inquiring about the procedures for bailing someone out, it's crucial to remember that each individual jail in Ohio may have a slightly different process. So again, contacting the jail or sheriff's office by phone or navigating to the county jail website would be the best way to obtain bail information.
A bail bondsman can also help expedite and simplify the process of posting bail and can be a useful resource if any issues come up.
How To Obtain & View Criminal Records in Ohio
There are various ways to check if someone has a criminal record and since Ohio criminal records are often stored at the local county courthouse, contacting the county Clerk of Court is the best place to start.
Online criminal history reports directly through the Bureau of Criminal Investigation (BCI) are not publicly available. Still, requesting your personal criminal record report through the BCI is possible by submitting all required forms.2
Run a Ohio Criminal Records Search Through the County Clerks of Court
When looking to obtain older criminal records, the county's Clerk of Court can be helpful because all of the counties in Ohio house older records here.
Most counties within Ohio have their own dedicated criminal history record search database. For a full list of the different county Clerk's Offices, including both the physical address and the public search link, when applicable, look at the table below:
County Courts for Criminal Record Searches
County Courthouse Address
Adams County
110 West Main St. Rm 25
West Union, Ohio 45693
Allen County
301 N. Main St.
Lima, OH 45801
Ashland County
142 W. 2nd Street
Ashland, Ohio 44805
Ashtabula County
25 W. Jefferson Street
Jefferson, OH 44047
Athens County
1 S. Court Street, 4th Floor
Athens, OH 45701
Auglaize County
201 S. Willipie Street, Room 043, P.O. Box 409
Wapakoneta, OH  45895
Belmont County
101 West Main Street
St. Clairsville, Ohio 43950
Brown County
101 South Main Street
Georgetown, Ohio 45121
Butler County
315 High Street, 2nd Floor
Hamilton, Ohio 45011
Carroll County
119 South Lisbon Street, Suite 400, P.O. Box 367
Carrollton, Ohio 44615
Champaign County
200 North Main Street, 1st Floor
Urbana, OH 43078
Clark County
101 N. Limestone St., Room 210
Springfield, Ohio 45502
Clermont County
2340 Clermont Center Drive, Suite 200
Batavia, OH 45103
Clinton County
46 S South St
Wilmington, OH 45177
Columbiana County
105 South Market
Lisbon, Ohio 44432
Coshocton County
318 Main Street
Coshocton, OH 43812
Crawford County
Bucyrus Location:
112 E. Mansfield St, Suite 100
Bucyrus, Ohio 44820Galion Location:
301 Harding Way East
Galion, Ohio 44833
Cuyahoga County
1 W Lakeside Ave #202
Cleveland, OH 44113
Darke County
504 S Broadway St
Greenville, OH 45331
Defiance County
221 Clinton St
Defiance, OH 43512
Delaware County
117 N Union St
Delaware, OH 43015
Erie County
323 Columbus Avenue
Sandusky, OH 44870
Fairfield County
210 E Main St
Lancaster, OH 43130
Fayette County
110 E Court Street, 3rd Floor Court House
Washington Court House, OH 43160
Franklin County
375 S High St 6th Floor
Columbus, OH 43215
Fulton County
210 S Fulton St # 102
Wauseon, OH 43567
Gallia County
18 Locust St
Gallipolis, OH 45631
Geauga County
100 Short Ct St #300
Chardon, OH 44024
Greene County
45 N Detroit St
Xenia, OH 45385
Guernsey County
801 Wheeling Ave
Cambridge, OH 43725
Hamilton County
1000 Main St
Cincinnati, OH 45202
Hancock County
300 S Main St
Findlay, OH 45840
Hardin County
1 Courthouse Sq # 310
Kenton, OH 43326
Harrison County
100 W Market St
Cadiz, OH 43907
Henry County
660 N Perry St # 302
Napoleon, OH 43545
Highland County
300 Jefferson St. 2nd Floor
Greenfield, Ohio 45123
Hocking County
1 East Main Street
Logan, OH 43138
Holmes County
1 E Jackson St
Millersburg, OH 44654
Huron County
2 East Main Street
Norwalk, Ohio 44857
Jackson County
226 Main St
Jackson, OH 45640
Jefferson County
301 Market St
Steubenville, OH 43952
Knox County
117 East High Street, Suite 201
Mount Vernon, Ohio 43050
Lake County
25 N Park Pl
Painesville, OH 44077
Lawrence County
111 S 4th St #11
Ironton, OH 45638
Licking County
20 S 2nd St
Newark, OH 43055
Logan County
101 S Main St
Bellefontaine, OH 43311
Lorain County
225 Court St
Elyria, OH 44035
Lucas County
700 Adams St
Toledo, OH 43604
Madison County
55 N Oak St
London, OH 43140
Mahoning County
120 Market St
Youngstown, OH 44503
Marion County
100 N Main St
Marion, OH 43302
Medina County
225 E Washington St
Medina, OH 44256
Meigs County
100 E 2nd St #303
Pomeroy, OH 45769
Mercer County
101 N Main St STE 205
Celina, OH 45822
Miami County
215 W Main St
Troy, OH 45373
Monroe County
101 N Main St
Woodsfield, OH 43793
Montgomery County
21 N Main St
Dayton, OH 45402
Morgan County
19 East Main St.
McConnelsville, OH 43756
Morrow County
48 E High St, Mt
Gilead, OH 43338
Muskingum County
27 N 5th St #301
Zanesville, OH 43701
Noble County
260 Courthouse #2e
Caldwell, OH 43724
Ottawa County
315 Madison St
Port Clinton, OH 43452
Paulding County
201 E Caroline St
Paulding, OH 45879
Perry County
105 N Main St
New Lexington, OH 43764
Pickaway County
207 South Court Street, P.O. Box 280
Circleville, Ohio 43113
Pike County
100 E 2nd St
Waverly, OH 45690
Portage County
203 W. Main St. P. O. Box 958
Ravenna, Ohio 44266
Preble County
101 E Main St
Eaton, OH 45320
Putnam County
245 E Main St
Ottawa, OH 45875
Richland County
50 Park Ave E
Mansfield, OH 44902
Ross County
2 N Paint St suite b
Chillicothe, OH 45601
Sandusky County
100 N Park Ave
Fremont, OH 43420
Scioto County
602 7th St #205
Portsmouth, OH 45662
Seneca County
103 E. Market Street, Suite 101
Tiffin, Ohio 44883
Shelby County
100 E Court St
Sidney, OH 45365
Stark County
115 Central Plaza N
Canton, OH 44702
Summit County
209 S High St
Akron, OH 44308
Trumbull County
161 High St NW
Warren, OH 44481
Tuscarawas County
125 E High Ave
New Philadelphia, OH 44663
Union County
215 W 5th St
Marysville, OH 43040
Van Wert County
121 E Main St
Van Wert, OH 45891
Vinton County
100 E Main St
McArthur, OH 45651
Warren County
880 Memorial Dr
Lebanon, OH 45036
Washington County
205 Putnam St
Marietta, OH 45750
Wayne County
215 N Grant St
Wooster, OH 44691
Williams County
1 Courthouse Square
Bryan, OH 43506
Wood County
1 Court House Square
Bowling Green, OH 43402
Wyandot County
109 S Sandusky Ave
Upper Sandusky, OH 43351
How To Access Criminal Records Through the Ohio Attorney General
Because online criminal records under the Ohio Bureau of Criminal Investigation (BCI) are not accessible by the public, the next best way to run and obtain a criminal record through the BCI is by applying to the Ohio Attorney General.
It's important to note that this search is used for someone looking for their own criminal records and is often used to check for accuracy and see if anything is missing.
Specific items must be submitted when requesting criminal records maintained by the BCI through the Ohio Attorney General. Below shows the breakdown of what is required.
The complete name, address, and any other identifying characteristics of the individual.
A complete set of fingerprints.
Signed consent from the individual whose records are being obtained.
As this service is not free one would also need to include a payment of $22 paid by a business check, money order, or electronic payment.
As part of the fingerprint submission for convenience, these can be submitted at any of the four different BCI locations seen in the image below.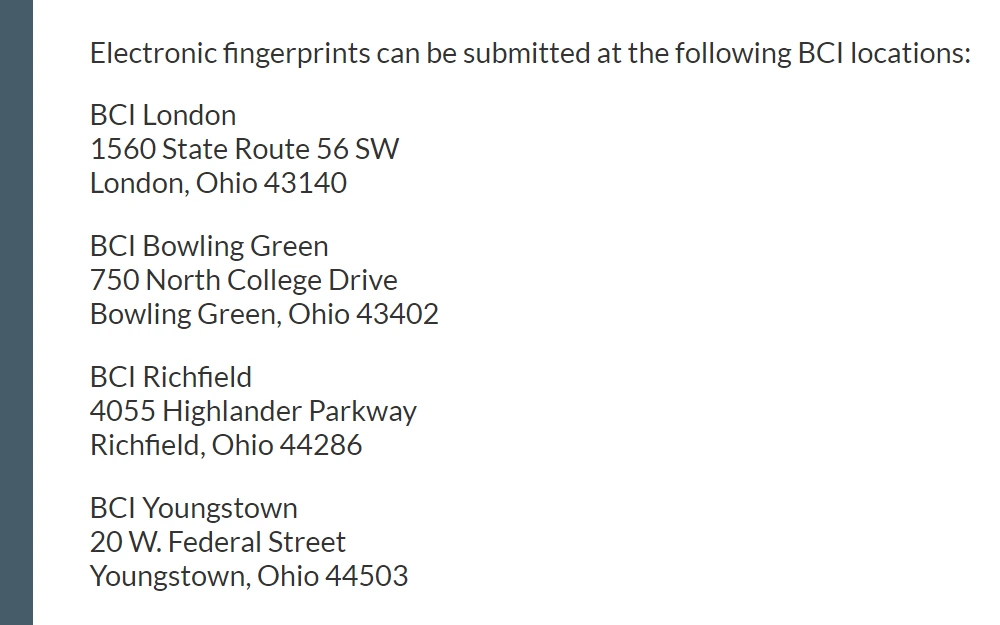 The other option that could be utilized would be providing the required information for a background check (the four points above) and electronically submit fingerprints through one of the Webcheck providers. For more information about Ohio background checks keep reading below.
How To Get Copies of Criminal Record in Ohio (OH)
Because there is limited access to state-wide online searches in Ohio it's helpful to get creative and request records through the Ohio State Patrol which can be an effective way to check if someone has a criminal record. These criminal records are made available to the public under the Ohio Revised Code 149.43.3 There are a variety of different things someone could request including body-worn camera recordings, transcripts and recordings of 911 calls, criminal investigation case information, and much more.
For an easy breakdown of how to search for records through the Ohio State Patrol follow the instructions below.
Firstly, navigate to the Public Records Center which can be found through the Ohio Department of Public Safety website.
It's helpful to remember that while an account is optional there are some benefits such as being able to track the records request. A free account can be created, if desired to track but if not records can be obtained anonymously. If no account is used, it is crucial to remember the reference number for updates and to request additional information as needed.
Next someone would need to fill out the required forms seen here detailing what records are desired, including:

Which type of record(s) are being requested.
A clear description of the record(s) that are being requested.
The preferred method to obtain records (electronic, inspect on-site, fax, pick-up, regular mail)
An optional place to add any documents or images that may assist with the Ohio criminal records request.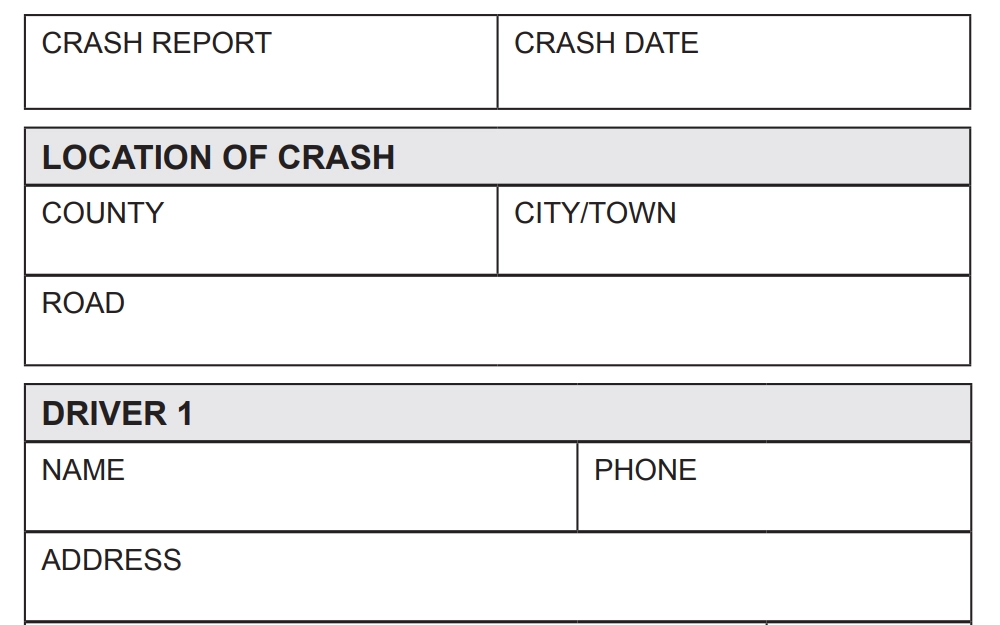 Furthermore, for additional ways to obtain criminal records in Ohio, contact the Clerk of Court or the county's sheriff's department. This can easily be done by contacting the specific county for further information by using the court and sheriff's office numbers in the above tables.
How To See If Someone Is on Probation or Parole in Ohio
Parole and probation information can be obtained through the Ohio Department of Rehabilitation and Correction offender search feature. By utilizing this database, someone can easily find out information on individuals currently serving time in an Ohio prison who are under department supervision or for those who had their sentence reduced through judicial release.4
To illustrate just how many people are on probation and parole, the following image shows the combined total of probationers and parolees in Ohio, along with their ethnicities. Furthermore, these totals are also compared to the number of individuals on community supervision (including probation and parole) in other states across the United States.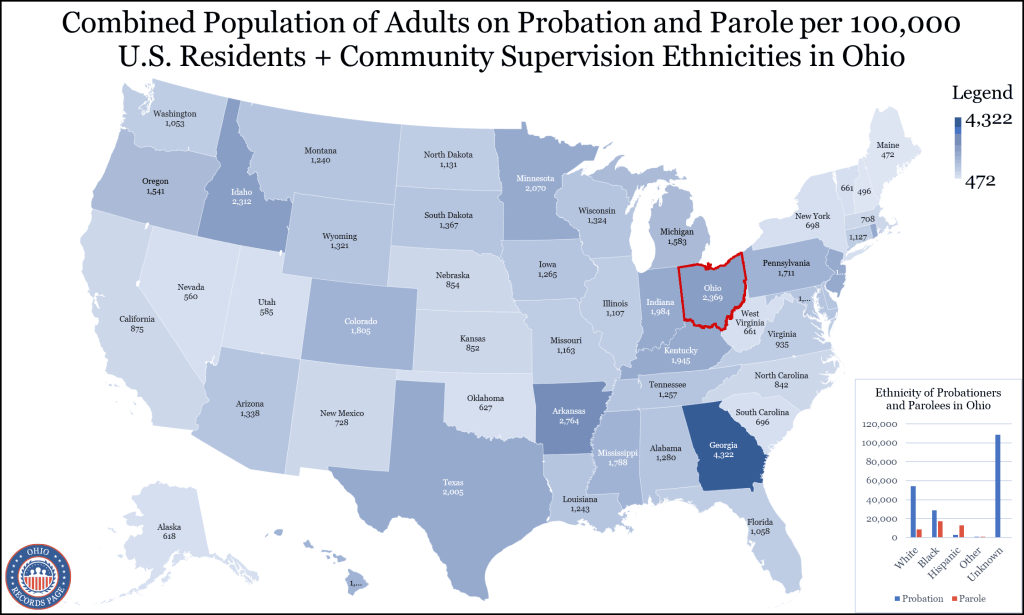 When someone is looking to obtain information on probation or parole, it's always important to remember the notable differences between the two. Parole most often is given to those who have been released from prison and is designated for major offenders. On the other hand, probation is designated for someone who has served little to no time in jail and for those that were convicted of a minor offense or misdemeanor.
Inmates that were found through the Ohio online search who are on the parolee database will be listed under two designative statuses: "Adult Parole Authority (APA) supervision" or "RELEASED- judicial release" if they are on the probation search. See examples of both below.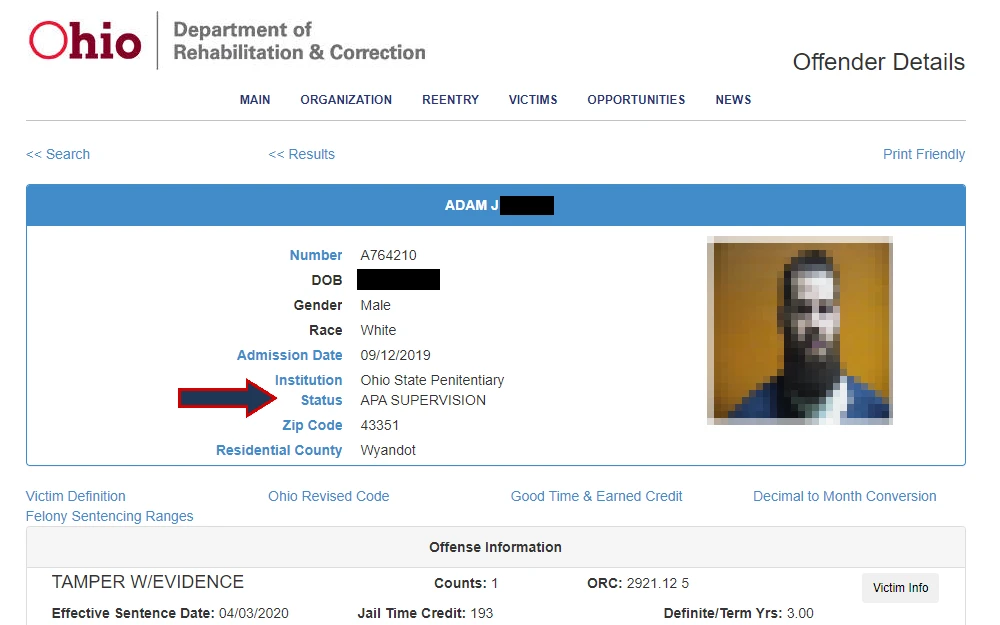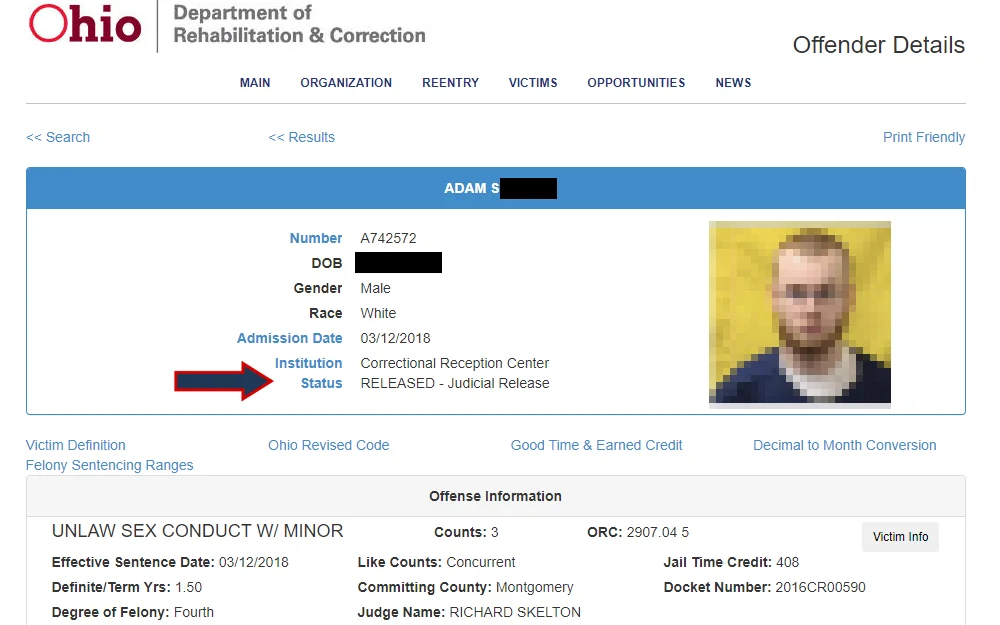 Clicking on the individual's profile will display more information such as their expected release date or when they would be eligible for parole.
For an easy way to look at all parole violators at large in Ohio, the Ohio Department of Rehabilitation and Correction publishes this information directly on its website.
If someone is looking for a federally charged inmate, it may be worth checking the Federal Bureau of Prisons as this website shows historical information for anyone who went to federal prison. It is important to remember that this website will not clearly state if the inmate is on parole but it will show if they were recently released, which may indicate they are on parole.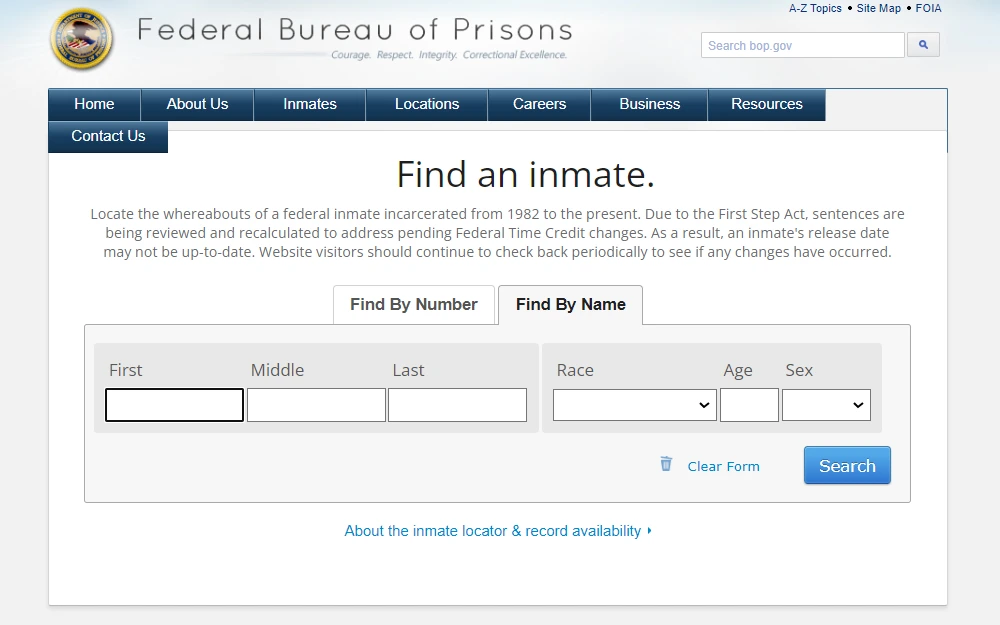 As a last resort, VineLink can be utilized because this may show probation information but it is always recommended to check the above resources first since VineLink aggregates the data found through the agencies above so there may be a delay in retrieving this information on VineLink.
Furthermore, if someone runs into issues or has any additional questions contacting the  county courthouses or calling the probation or parole offices may be viable solutions to try out.
How To Seal or Expunge a Criminal Record in Ohio (OH)
Under the Ohio Revised Code section 2953.31, certain requirements exist for a record to be sealed in Ohio. Recently, in April 2023, new Ohio laws were enacted which allows more people to seal their Ohio criminal records. Due to these new laws, for someone to apply for a sealed record, they can have up to five non-violent, non-sexual felony registry convictions sealed and an unlimited number of non-sexual and non-violent misdemeanors sealed.5
It's important to remember that some records are ineligible to be sealed such as first or second degree felonies.
Also noteworthy to mention that Ohio does not have an auto-expunge or auto-seal policy, and it is always required for someone to apply to have their records sealed. For misdemeanor convictions, someone must wait one year after completing their sentence to apply for a record to be sealed.
For felony convictions, one must wait between three and five years, depending on the severity of the charge.
Applications are subject to a $50 charge and are filed through the County Court of Common Pleas, and completed applications are sent to the County Clerk of Courts.
As with other things within Ohio, specific counties may have different policies and instructions, specifically with how they would like to application submitted.
While documented to a lesser extent, criminal records can also be expunged in Ohio and the exact requirements and conditions are seen in Section 2953.32 of Ohio code.
Additionally, to help simplify the process, obtaining legal counsel from an attorney or lawyer is generally advised.
How To Tell If Someone Is in an Ohio State Prison or Federal Prison
The Ohio Department of Rehabilitation and Correction has a free inmate search platform to search for those inmates in state prisons. The search can be performed by:
The inmates first or last name.
Their status which could be: all, incarcerated, APA supervision, or violators at large.
The inmate's offender number. All numbers for inmates in Ohio will have a prefix A, R, or W. 'W' is used for all female inmates. 'A' and 'R' are saved for male inmates, with most male inmates using the 'A' prefix.
The results from the search will show a variety of different information including the inmate's first and last name, their offender number, and which their current status is.
After clicking on the inmate's name, more information will populate, including their mugshot and demographics such as hair and eye color, height, weight, charges, expected release date, and parole eligibility date.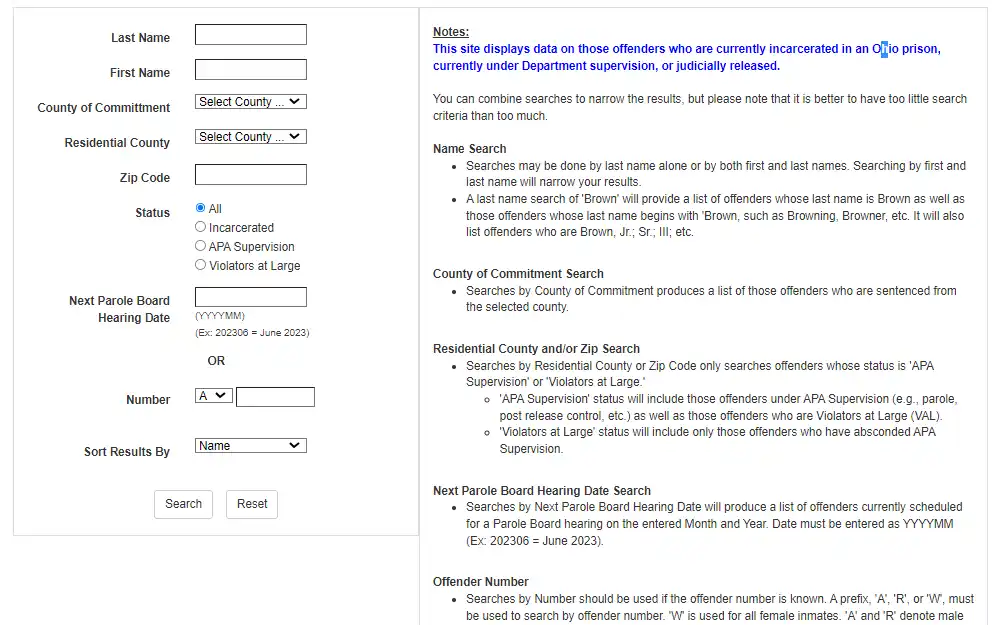 There are twenty-eight state-run facilities in Ohio overseen by the Ohio Department of Rehabilitation and Correction in the state's North, South, and Specialty regions.
Finally, if someone is curious to find historical information on a federally charged inmate, search the Bureau of Prison. Both the first and last names are required, or the search can be done with the inmate number.
How To Perform a Warrant Search in Ohio
While Ohio does not have a statewide warrant list online database, an effective way to see who has an active warrant out for their arrest is to contact the specific county or utilize the counties online warrant search feature, if applicable. For example, Montgomery County in Ohio has an online warrant search feature.
The Ohio Department of Rehabilitation and Correction does provide a full list of individuals on the run who are considered "Violators at Large." Always remember that someone with the status of "violator at large" is wanted by the Adult Parole Authority for violating the conditions of their supervision and they should always be considered dangerous and potentially armed.
To look for warrant information in Ohio, searchers can also search "[County Name] warrant search" and navigating to the official county website for the given region. If applicable, there will be a warrant search in the menu that can be searched online, but if not, navigate to the contact page to call the county sheriff's office — all of which can be found in the county sheriff's office table above.
Furthermore, federal warrants are issued by the U.S. Marshals and housed under the Warrant Information System (WIN) but can not be accessed by the public.
Understanding Background Checks in the State of Ohio
Requesting a background check directly through the Ohio Attorney General's Bureau of Criminal Investigation (BCI) can be done by visiting or contacting one of the Web Check locations.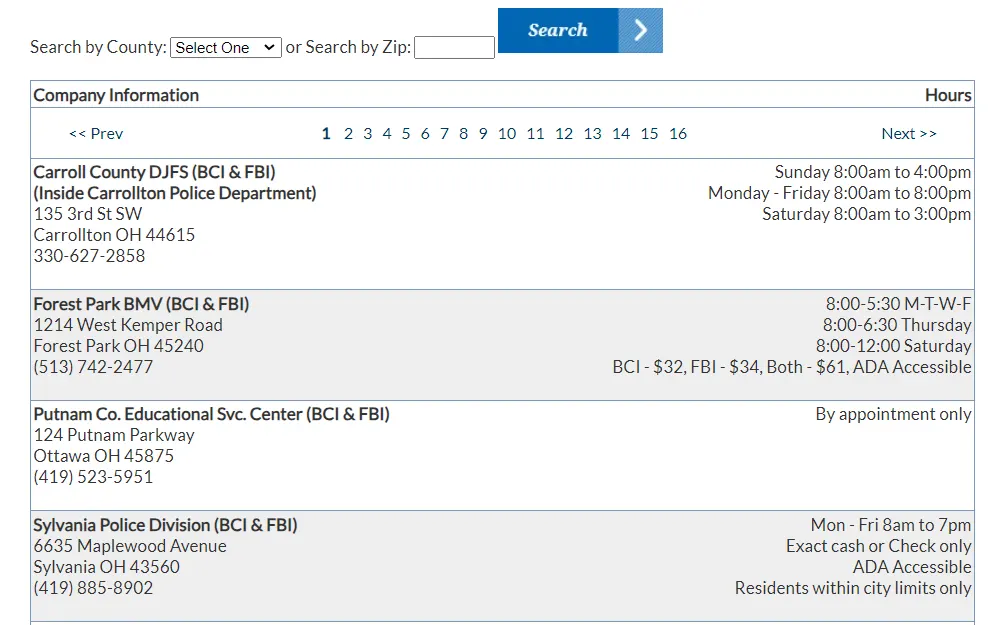 For any questions, the BCI can be called at 877-224-0043. The frequently asked questions may also be a helpful resource to utilize.
Background checks are used for personal and professional reasons such as employment, firearm purchases, learning more about another person, and sometimes residency. Both local and federal agencies also use them for additional things, such as adoption applications and security clearance checks.
For personal uses, anyone can investigate background information on anyone without prior consent from the individual and find out various information such as criminal records, personal information, employment history, addresses, and more. The information found through personal background checks can not be used for harassment, stalking, hate crimes, etc.
Additionally, these can be obtained through court criminal record searches, state police searches, and third-party people finder services can also be utilized to search many different counties, cities, and states at once.
In comparison, professional background checks must abide by all federal and state laws and require consent from the person being investigated. These verify personal information for various reasons, from employment, residency, and adoptions. These searches are all-encompassing and will search criminal records, including Ohio arrest records, education, credit histories, and social media.
Furthermore, it's important to remember that all professional background checks must abide by federal and state laws. These laws protect individuals against discrimination, including the Equal Employment Opportunity Commission (EEOC) and FCRA.6 The Fair Credit Reporting Act (FCRA) states that the background check report cannot be provided to anyone that doesn't have a purpose.7
On top of that, there are two types of professional background checks: Level 1 and Level 2.
Level 1 checks are searched by name, name, and social security number and will only look at local records such as those found in the state or county. These are requested at the state level with state police or bureau of investigation and at the county level.
Level 2 background checks are more intensive and all-inclusive, looking at national records and providing historical information. This type of check is always requested by sending fingerprints to the FBI.
Most of the time, the more accurate background check would be level 2 because they are searched by fingerprint and performed by the FBI instead of just by name.
A Level 2 background check will provide significantly more information, including previous addresses, employers, marital status, credit history, educational and professional certifications, misdemeanors, felonies, pending criminal cases, civil judgments, arrest records, sex crimes, and prison or jail records.
These more intense background checks are used for employment involving at-risk populations such as those with older people or children, healthcare professionals, and some C-level positions such as chief executive officers and chief operating officers.
How To Check for Nearby Sexual Offenders in Ohio
Ohio has a state-wide sex offender online directory, which includes the offender's home address, work address, and vehicle information.
To search the registry, navigate to the offender search site and enter one of the following:
In the area: This search is used to view offenders within a radius of a home, business, school, or other address. Enter the desired address, then search.
Name: Utilize this to search for a specific offender by first or last name.
City: Will populate results of offenders within a specific city.
Non-compliant: This search will show all offenders that have not updated their information.
Internet names/email: Typically providing fewer results, this is an opportunity to search by email address or any internet name used.
Phone number: Search for an offender by their phone number.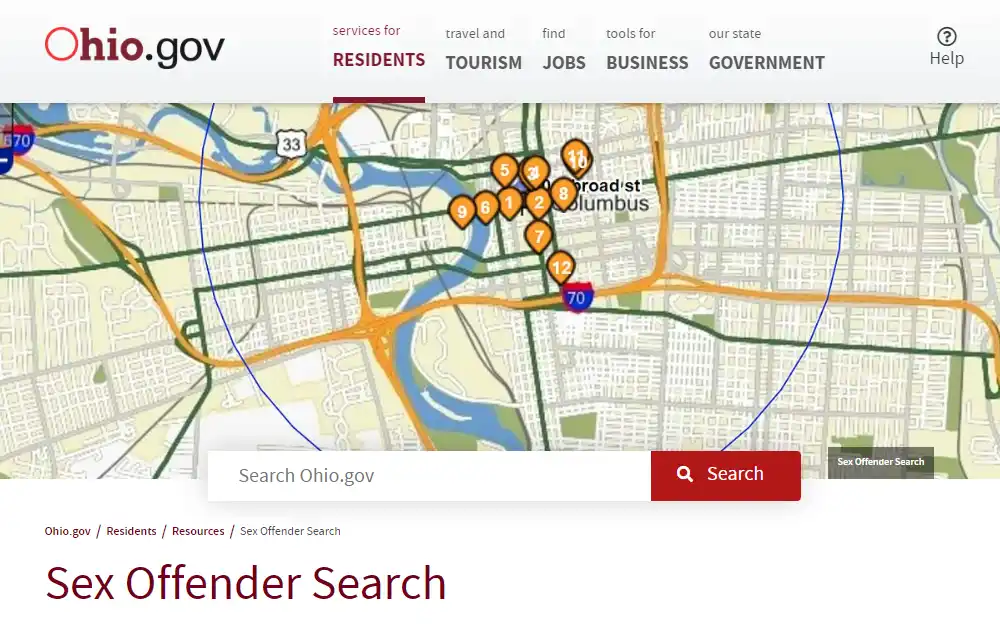 It's also possible to see all published sex offenders with the Ohio Attorney General in one search result.
The Ohio sex registry  includes a mugshot database and specifics about each offender, including their demographics, conviction details, and address. Registering to track an offender using an email address is also an option.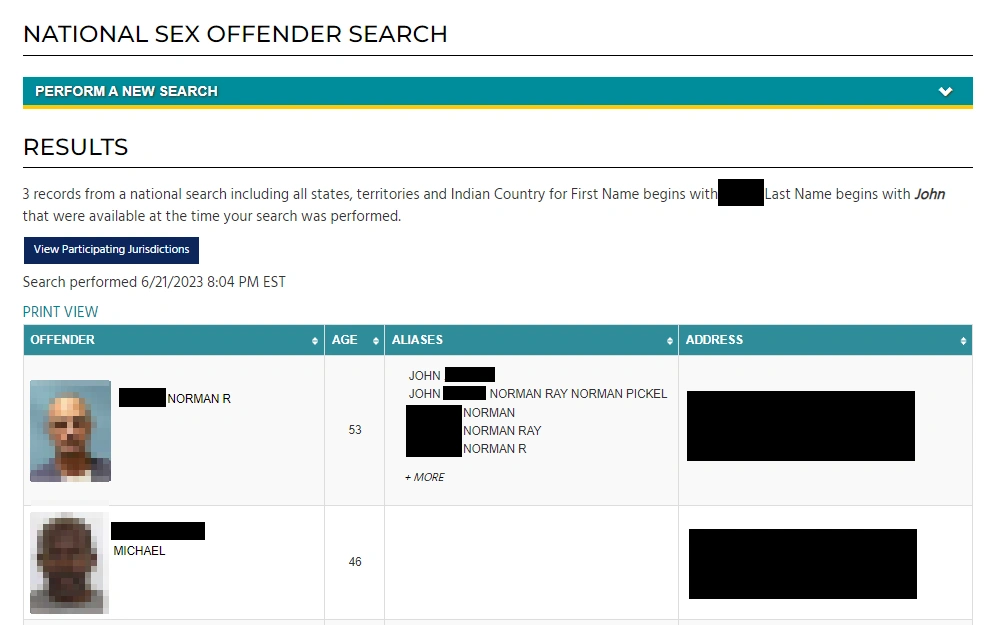 For a large overview of the entire United States, there is also the option to search the national sex offender registry through the United States Department of Justice's National Sex Offender public website.
How To Search the Operating a Motor Vehicle While Intoxicated (OMVI) Registry
In 2008, Ohio state law, under the Ohio Revised Code 5502.10, established the Habitual Operating a Motor Vehicle While Intoxicated (OMVI) Offender Registry.8 This registry is a public records repository of individuals convicted at least five times of driving under the influence of alcohol or drugs.9
In other states, chargers for operating a motor vehicle while intoxicated are referred to as a DUIs or DWIs.
The registry does not include convictions more than 20 years old or those of deceased people. Juvenile offenses are included.
The Habitual Offender Registry is updated weekly from information Ohio courts send to the Ohio Department of Public Safety. For any questions regarding this database, contact the Ohio Traffic Safety Office at [email protected].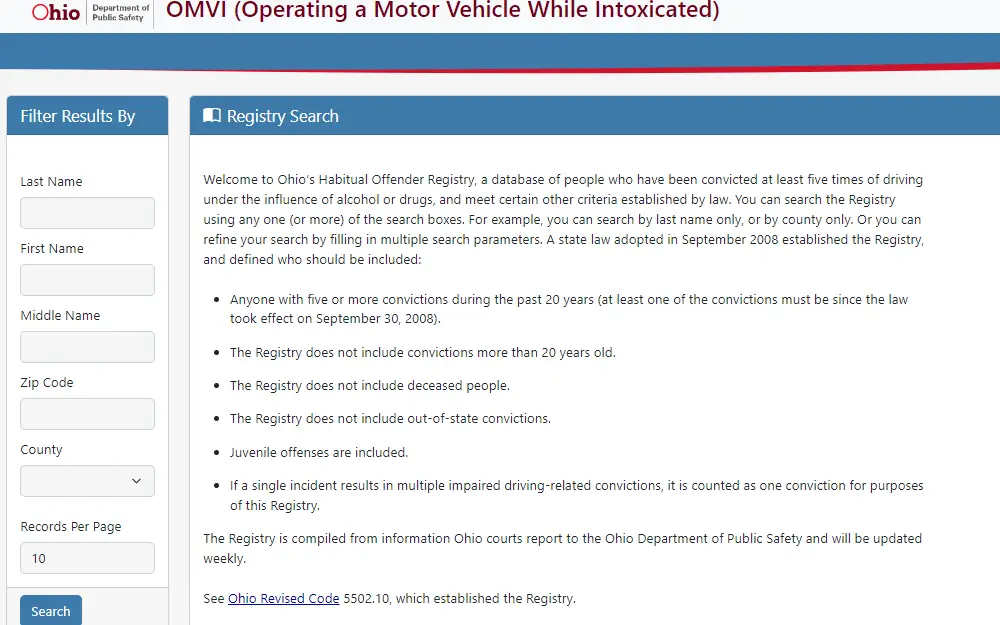 To search the Habitual OVI/OMVI Offenders Registry, locate offenders by name or search an entire county. The results will populate information on the offender, including their name, address, DOB, and case number. It will also include information regarding their offenses.
An Overview of Ohio Laws on Criminal Records & Arrest Records
Under the Ohio Sunshine Laws, public records, including criminal and arrest records, are publicly accessible except for some, such as those that have been sealed, expunged, or juvenile records.10
In 2015, Ohio implemented Policy HR-29, which protects applicants during the application process and states applicants do not have to disclose their criminal records until the initial interview.11 This policy also states that all final candidates for positions in Ohio must undergo a criminal background check. Specific agencies can implement their own policy regarding background checks.
For personal criminal record background checks and searches, it's okay to use background checks without someone's prior consent. However, professional background checks and searches, such as those for property management, licensing, or jobs, must abide by all state, local, and federal laws, including FCRA and all guidelines implemented by the EEOC.
The Equal Employment Opportunity Commission (EEOC) protects individuals from discrimination. It ensures everyone is given the same opportunity and held to the same standards regardless of race, age, disabilities, etc.
In addition, the Fair Credit Reporting Act (FCRA) continues to protect individuals when background information is run on them by requiring the applicant to give written permission for the background check, requiring the employer to disclosure what information was used to decide on the employment, and that the applicant can be given a copy of the consumer report if desired.
Whether someone is searching for Ohio arrest records or they want a more compressive view of Ohio criminal records, this free guide outlines everything to find public criminal records which can help citizens learn about a someone's past.
1National Institute of Corrections. (2020). Ohio 2020. 2020 National Averages. <https://nicic.gov/resources/nic-library/state-statistics/2020/ohio-2020>
2Ohio Attorney General. (2023). Requesting Your Own Criminal Records. <https://www.ohioattorneygeneral.gov/Individuals-and-Families/Consumers/Requesting-Your-Own-Criminal-Records>
3Ohio Laws & Administrative Rules. (2023, April 7). Section 149.43 | Availability of public records for inspection and copying. <https://codes.ohio.gov/ohio-revised-code/section-149.43>
4Ohio Laws & Administrative Rules. (2023, April 6). Section 2929.20 | Sentence reduction through judicial release <https://codes.ohio.gov/ohio-revised-code/section-2929.20>
5Cuyahoga County Office of the Prosecutor. (2023). Sealing Criminal Records. <http://prosecutor.cuyahogacounty.us/en-US/expungement-and-sealing-of-records.aspx>
6Wikipedia. (2023). Equal Employment Opportunity Commission. <https://en.wikipedia.org/wiki/Equal_Employment_Opportunity_Commission>
7Federal Trade Commission. (2023). Fair Credit Reporting Act. <https://www.ftc.gov/legal-library/browse/statutes/fair-credit-reporting-act>
8Ohio Department of Public Safety. (2008). 5502.10 State Registry of habitual OVI/OMWI offenders. <https://services.dps.ohio.gov/OMVI/Registry/OhioRevisedCode>
9Ohio Department of Public Safety. (2023). Search the Ohio Habitual OVI/OMVI Offenders Registry. <https://publicsafety.ohio.gov/what-we-do/our-services/search_the_ohio_habitual_ovi_omvi_offenders_registry>
10Ohio Attorney General. (2023). Ohio Sunshine Laws. Legal. <https://www.ohioattorneygeneral.gov/legal/sunshine-laws>
11Ohio Attorney General. (2015). Disclosure of Criminal Convictions During the Application Process HR-29 Implementation Guide. <https://das.ohio.gov/static/employee-relations/policies/disclosure-of-criminal-convictions/HR-29%20Implementation%20Guide%20.pdf>
12Franklin County Sheriff's Office. (n.d.). Search Result. Offender Search. Retrieved June 21, 2023, from <https://fcsojmsweb.franklincountyohio.gov/Publicview/(S(14knmnmsuo4boqb3t2l4aw0k))/BookingFind.aspx>
13Ohio State Highway Patrol. (n.d.). Form. Highway Patrol Crash Report. Retrieved July 4, 2023, from <https://statepatrol.ohio.gov/static/doc/ohp0410.pdf>
14Ohio Department of Rehabilitation and Correction. (n.d.). Details. Offender Search. Retrieved June 21, 2023, from <https://appgateway.drc.ohio.gov/OffenderSearch/Search/Details/A764210>
15Ohio Department of Rehabilitation and Correction. (n.d.). Details. Offender Search. Retrieved June 21, 2023, from <https://appgateway.drc.ohio.gov/OffenderSearch/Search/Details/A742572>
16Federal Bureau of Prisons. (n.d.). Find by Name. Inmate Locator. Retrieved June 21, 2023, from <https://www.bop.gov/inmateloc/>
17Ohio Department of Rehabilitation and Correction. (n.d.). Offender Search. Retrieved June 21, 2023, from <https://appgateway.drc.ohio.gov/OffenderSearch>
18Ohio Department of Rehabilitation and Correction. (n.d.). Fugitive List. Offender Search. Retrieved June 21, 2023, from <https://appgateway.drc.ohio.gov/OffenderSearch/Search/PvalListing>
19Dave Yost Ohio Attorney General. (n.d.). Search. Webcheck Location. Retrieved June 21, 2023, from <https://www.ohioattorneygeneral.gov/Business/Services-for-Business/WebCheck/Webcheck-Community-Listing>
20Ohio Government. (n.d.). Offender Search. Retrieved June 21, 2023, from <https://ohio.gov/residents/resources/sex-offender-search>
21Department of Justice. (n.d.). Search Result. National Sex Offender Public Website. Retrieved June 21, 2023 from <https://www.nsopw.gov/en/Search/Results>
22Ohio Department of Public Safety. (n.d.). Registry Search. OMVI (Operating a Motor Vehicle While Intoxicated). Retrieved June 21, 2023, from <https://services.dps.ohio.gov/omvi>